WOOL
The natural, classic choice in diaper covers, wool fiber is used in several forms.
Pure wool or wool blend yarn can be used to knit or crochet pull-on diaper covers called "longies" (which look like pants) or "shorties" (which look like shorts), or to form a shaped "wrap" cover that fastens with a Snappi, hook-and-loop tape, or snaps. "Shorties" can be combined with a skirt for a little girl, called a "skirtie".
These 100% pure wool shorties were crocheted by Krista of
Nellybeans.
Wool fabric can also be used for covers. Knit fabrics like interlock make excellent pull-on covers with matching fabric bands at the waist and legs in place of elastic. Washable wool terry is also a knit and can be used in the same way. Wool flannel and other wool wovens can be used to sew wrap style covers.
This wool interlock pull-on cover was also made by Krista of Nellybeans.
Wool is particularly easy to find in clothing form for making recycled covers. Sweaters can be used to make recycled "longies", "shorties", or wraps. Wool skirts can be used as fabric for wrap style covers.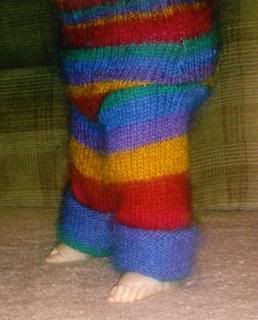 These 50% mohair 50% acrylic longies were made from a sweater by the author, using the directions from Bum Wrap below.
HOW WOOL WORKS and WOOL CARE
Wool is not water proof, but rather water resistant. Wool works by absorbing moisture and dispersing it evenly over the entire surface area. The saturation point (the amount of liquid that must be absorbed for a fabric to feel wet) of wool is quite high in comparison to other natural fibers, so any wool cover may feel slightly damp to the touch when the diaper underneath is saturated. This is the wool doing its job, and one reason why "pants replacement" styles are so popular for wool.
Wool is a very "breathable" fiber, and an excellent choice in the summer or in hot climates.
Wool will generally shrink (called "felting" or "fulling") if subjected to machine washing and drying (or even to vigorous scrubbing by hand or a sudden water temperature change). This phenomenon is helpful when you want to make a loose-knit wool sweater worthy of being turned into longies, but it can be disastrous if a person who is unaware of the special care requirements does your diaper cover laundry for you.
Almost all wool covers should be handwashed in cool water with gentle soap, rinsed thoroughly, and laid out on a towel to dry. The water resistance of wool can be enhanced by
lanolizing
the cover.




The recommendation?



Wool covers are breathable and economical (especially if you use recycled wool or can crochet or knit). If you are willing to invest the extra time in caring for wool covers, they are an excellent choice.



The pattern suggestions?



On the for-sale side, the Mile High Monkeys pattern is great for pull-on styles. Fern and Faerie offers patterns (both for-sale and for free!) for knit covers and recycled covers.

On the for-free side, try the Fern and Faerie patterns, the directions here for a recycled pull-on cover, the Bum Wrap's instructions for recycled longies from a sweater, the directions here for wool fabric wrap covers, or the excellent Katrina's Sew Quick Soaker Pattern for a pull-on cover.

Next, we'll discuss wool's synthetic cousin, polyester fleece!