We talked about the All-in-One diaper style. All-in-Twos are the best attempt to keep the "disposable-like" ease of use while addressing the drawbacks of the AIO style. There are two main types of AI2s. First, let's talk about:


Snap-in Soakers

This style of AI2 has a waterproof outer and a soft (sometimes absorbent) inner, to which an absorbent "soaker" is attached to keep it in place. Some AI2s can have just the snap-in part replaced for diaper changing purposes, while other styles (the ones with an absorbent inner material) should be completely changed.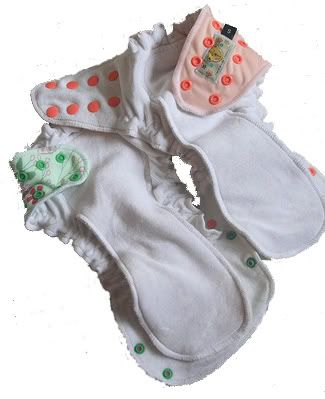 These serged edge snap-in soaker style AI2s are from
Yonder Tree
.



Pocket "All-in-One" Diapers



This style of AI2 has a waterproof outer with a permeable inner. There are no absorbent layers attached, but there is an opening for "stuffing" an absorbent material into the "pocket" between the two layers. The location of the pocket opening varies depending on the brand. The permeable inner layer can be made from an absorbent fabric like cotton flannel, or for a "stay-dry" effect against baby's skin, wicking synthetics like microfleece or suedecloth can be
used. Regardless of the inner material, if a pocket diaper is used with the absorbent "stuffer" in the pocket, the entire diaper needs to be changed every time.
This pocket diaper is from Fruit of the Womb Diapers, and is made with a PUL outer and a microfleece inner with a sham-style pocket opening. It is shown "stuffed" with a contour-shaped terrycloth insert.


Both AI2 styles fulfill their purpose--they are easier to clean thoroughly, dry faster, and are more customizable than AIO styles. However, they have a drawback in that the absorbent parts need to be matched up to the outer after washing and drying. But if you don't mind pre-stuffing or pre-snapping, AI2s are also excellent for daycare, babysitters, and other caretakers who are unfamiliar with cloth, because once assembled, they go on "like a disposable".



The recommendation?

AI2 styles are easy to use and easier to care for than AIOs. An entire "stash" made of either AI2 style would be feasible, although slightly more expensive than using one of the other combination systems we will discuss later this week.

Pocket diapers are the easier version for those new to sewing. For several reasons, I recommend using polyacetal resin snaps for snap-in soaker styles, and plastic snaps require a special press and die set to apply. Because of the investment in special equipment, snap-in soaker styles are not the best style for a beginner or casual home diaper seamstress.


The pattern suggestions?
On the for-sale pattern side, try the excellent pocket diaper kits from Kayla's Cloth Kits, Diaper Kit, or the Darling Diapers pattern.

On the for-free pattern side, try one of the Wee Weka pocket patterns from The Nappy Network, the Mamabird pattern variation, or
this neat back-fastening PUL pocket.



Next, let's talk about diaper covers!